What lies beneath the water's surface?
What swims and crawls below, both mystifying and inspiring us?
The Partnership for the Delaware Estuary is excited to announce its first three-part webinar series: "What lies beneath? Signature species of the Delaware Estuary"
Whether you are just curious about some unique wildlife species or well-versed on benthic estuarine life, our experts have knowledge to share with you!
Each of these free webinars will take place on Tuesdays. Join us online or by phone to learn something new and have your questions answered on the following signature species:
July 28 – FRESHWATER MUSSELS: Ecosystem Engineers
August 11 – OYSTERS: Beautiful Bivalves
August 25 – HORSESHOE CRABS: Humble Healers
View Part 1 of the webinar here:
Meet our July 28 speakers:
Kurt Cheng, Shellfish Coordinator, Partnership for the Delaware Estuary
Kurt Cheng is a Shellfish Coordinator at the Partnership for the Delaware Estuary. His chief responsibility is to research the natural benefits provided by various shellfish found in the Delaware River Basin. He also helps to monitor coastal 
wetlands
 along the tidal Delaware River and Bay.
Cheng received his Master's Degree in Environmental Science from Drexel University in 2015. His master's thesis focused on the ecology of the Asian clam, Corbicula fluminea. He earned his B.S. in Marine Science from Rutgers University in 2011, and he previously worked for the Haskin Shellfish Research Laboratory in Port Norris, New Jersey.
Cheng is from Edison, New Jersey and, in his spare time, he enjoys playing basketball and cooking.
Matt Gentry, Shellfish Specialist, Partnership for the Delaware Estuary
Matt Gentry is PDE's Shellfish Specialist.  At PDE, his work is focused on the restoration of bivalve shellfish such as oysters and freshwater mussels, and the evaluation of their ecosystem services.  He works extensively with propagation and reintroduction studies of freshwater mussels to support the Partnership's Freshwater Mussel Recovery Program.  Before coming to PDE in 2018, he worked as a staff scientist at The Academy of Natural Sciences of Drexel University.
Gentry spent most of his life in southeastern Connecticut, but moved to west Philadelphia for college in 2012, where he still happily resides. Gentry has a bachelor's degree in Environmental Science in 2017 from Drexel University. In his free time, he enjoys backpacking, foraging, gardening, and pretty much anything else outdoors.
View Part 2 of the webinar here:
Meet our Aug. 11 speakers:
Dr. Dave Bushek, Director of the Haskin Shellfish Research Laboratory at Rutgers University
Dave Bushek: Dr. David Bushek is the Director of the Haskin Shellfish Research Laboratory at Rutgers University where he is also a Professor of Marine and Coastal Sciences.  He is an expert in shellfish ecology, parasitology and aquaculture, and is perhaps best known for his work on Dermo disease in the eastern oyster, which is native to the Atlantic Coast of North America.
Bushek holds a Doctorate in Ecology and Evolution from Rutgers, The State University of New Jersey, a Master's in Biology (emphasis in Marine Biology) from the University of Houston, and a Bachelor's in Zoology from The Ohio State Univeristy. After completing his doctorate, he joined the University of South Carolina where he served as the Assistant Director of the Belle W. Baruch Marine Field Station for 10 years before returning to Rutgers and the Haskin Lab in 2003 as a faculty member in the Department of Marine and Coastal Sciences.  In April 2011, he became the sixth Director of the Haskin Shellfish Research Laboratory (HSRL) in its 130-year history.  As HSRL Director he leads the Annual Delaware Bay Oyster Stock Assessment which determines the sustainable harvest level for the New Jersey Delaware Bay oyster fishery.  Dr. Bushek is a Past-President of the National Shellfisheries Association, serves on the New Jersey Aquaculture Advisory Council, and is a Board Member for the Partnership for Delaware Estuary where he also serves as a member of PDE's Science and Technical Advisory Committee.
Sarah Bouboulis, Habitat Projects Coordinator, Partnership for the Delaware Estuary
Sarah Bouboulis is PDE's Habitat Projects Coordinator. She installs clean-water investments like rain gardens and natural shorelines. She also works with local businesses, schools, and organizations to beautify their landscapes, manage polluted runoff, and engage their employees and neighbors. A prime example is the Corporate & Community Environmental Stewardship Program.
Bouboulis has a variety of experience working as a field biologist and project manager. She has worked for the Delaware Division of Fish and Wildlife managing bat, bog turtle, and amphibian projects. She has also worked for the U.S. Fish and Wildlife Service at Bombay Hook National Wildlife Refuge in Smyrna, Delaware. There she helped improve salt marshes, manage databases, and monitor both bats and birds.
Bouboulis has a M.S. from Bucknell University, where she studied how bats adapt and behave. She also has a B.S. from East Stroudsburg University. Bouboulis is originally from the Lehigh Valley but now lives in Newark, Delaware with her husband and daughter. She enjoys hiking, birding, and farmers markets.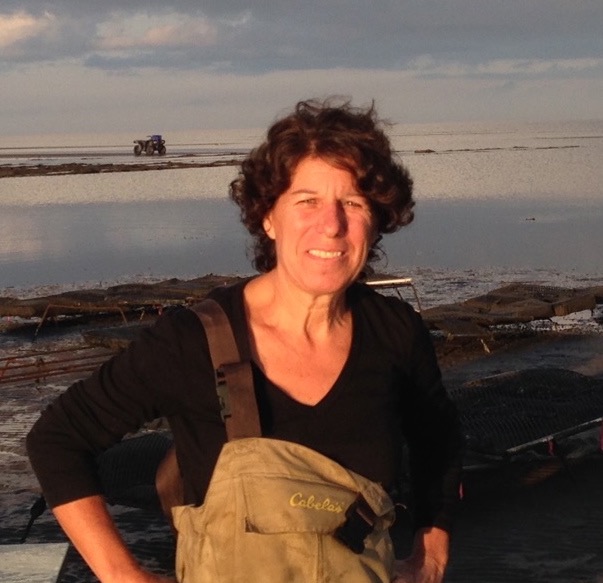 Lisa Calvo, Aquaculture Program Coordinator at the New Jersey Sea Grant Consortium
Lisa Calvo serves as Aquaculture Program Coordinator at the New Jersey Sea Grant Consortium and Marine Scientist at Rutgers University where she supports aquaculture development in New Jersey. She has worked in the field of shellfish research and extension for 30 years, serving as a Marine Scientist at the Virginia Institute of Marine Science prior to working at Rutgers University. Lisa received her undergraduate degree in Biology and Geography from the University of Delaware and her Masters Degree in Marine Science from the Virginia Institute of Marine Science, College of William and Mary.
Big thanks to Ramboll for sponsoring this webinar series!