Be a pearl and bag oyster shells with PDE!
September 22 @ 9:30 am

-

1:30 pm

Free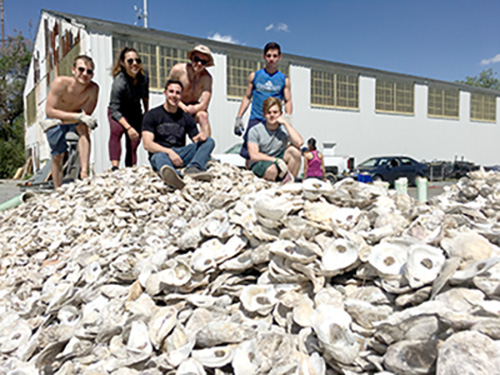 Saturday, September 22, 2018
9:30 am to 1:30 pm
PDE Shell Management Area
Wilmington, DE 19801
(exact address to be provided prior to the event)
Come volunteer with us to support National Estuaries Week!
Aluminum cans, old newspapers, and plastic bottles are examples of things we're all accustomed to recycling. It's something most of us do every day. But, did you know that oyster shells can be recycled too?
Millions of oysters are being harvested each year, but only a fraction of shells are ever returned to the water. Baby oysters need old oyster shells to attach to in order to survive. But typically, harvested oyster shells are disposed of in landfills. Luckily the Partnership for the Delaware Estuary is working to change that and we need your help.
PDE has been collecting and recycling these used oyster shells for use in restoration projects. The returned shells provide homes for millions of new oysters to take the place of the those harvested, helping to sustain all the great services they provide! You can help this effort by volunteering a little of your time. On Sept. 22, you can help us bag our recycled oyster shells for use in restoring oyster populations and our shorelines!
See our Event Brite for more information and to sign-up!