RASCL Summit
November 15, 2019 @ November 15, 2019

-

November 15, 2019

$15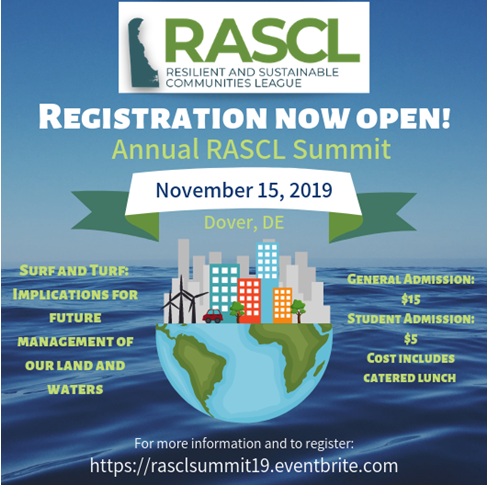 RASCL Summit 2019
When: 9 a.m. to 3 p.m., Friday, Nov. 15
Where:  Del-One Conference Center (on the campus of Delaware Technical & Community College), Dover, Delaware
Surf and Turf: Implications for Future Management of Our Lands and Waters
Join us for the Delaware Resilient and Sustainable Communities League's (RASCL) 3rd annual Summit on November 15th at the Del-One Conference Center. This all day summit takes a comprehensive look at land use practices that integrate wetlands, green infrastructure, and other strategies to help coastal and inland communities manage our changing climate. Attendees will discover new ideas and local best practices for building sustainability and resiliency. A draft program is available here.
RASCL invites participants from all levels of government, including local community leaders and municipal officials, non-profit organizations, consultants, academics, businesses and planners. The day will feature plenary and panel sessions as well as opportunities to network with subject matter experts and planning practitioners.
To register for the summit, click here.
Professional Development Hours are available for attending AICPs, CFMs, and PEs.
General Admission: $15
Student Admission: $5
Registration cost includes catered lunch. Be sure to register now to save your spot, as space is limited! Networking time will be available.
Registration closes on November 6, 2019.